New RAM 2019 RAM 2500 vs 2019 Ford Super Duty – Lexington NC for Sale in Lexington, NC
2019 RAM 2500 vs 2019 Ford Super Duty – Lexington NC
View Inventory


Vehicle Overview
The torque figure and horsepower on heavy-duty tracks in America have crept upward in the recent past. It has only been a matter of time before an American automaker hits that four-digit mark. The first American model to cross that threshold was the RAM, with the launch of the 2019 RAM HD at the Detroit auto show. It comes with up to 1,000 pound-feet of torque. The 2019 Super Duty trim serving Lexington Winston Salem High Point has a powerful engine that can deliver more torque but less than the RAM 2500. But it takes more than torque and horsepower to win over the buyers of heavy-duty trucks. Below is a comparison of specs of the 2019 RAM 2500 against the 2019 Ford Super Duty.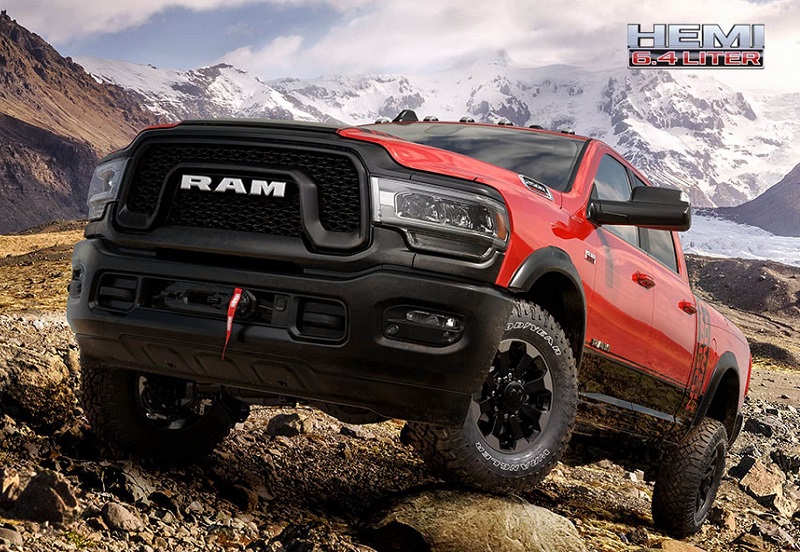 Exterior – 2019 RAM 2500
Of course, the weight that each of these heavy-duty trucks can haul in the bed is known. What matters is the amount of stuff that can fit in each model. The RAM HD comes standard with a 76.3-inch bed with a capacity of 57.5 cubic feet of loads. The longer trims come with a bed that measures 98.3 inches and can accommodate up to 74.7 cubic feet of cargo. But both beds come with the same measurements between wheelbases. Ford's standard bed on the 2019 Super Duty is 78.9 inches long, with a 61 cubic feet of cargo volume. All trims have a standard 51-inches width between wheelbases. The automaker is yet to release the bed dimensions for the 2020 models, but RAM HD promises a class-leading truck with an unmatched cargo bed volume. The long bed of the Super Duty is a few inches shy of the RAM's 98.1. The cargo volume of the Ford Duty is large enough to accommodate up to 78.5 cubic feet of cargo, but both beds come standard with a 50.5-inches distance between wheelbases.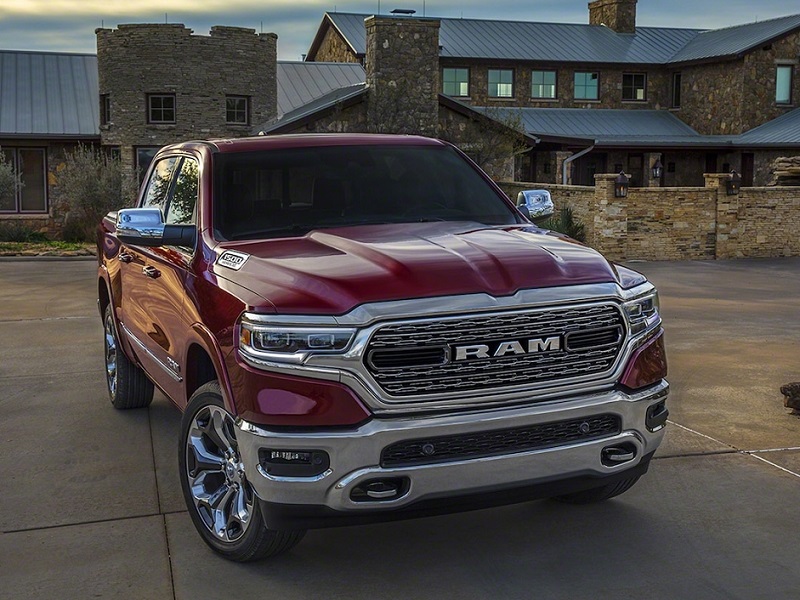 Interior – 2019 RAM 2500 in Lexington NC
That 1,000 pound-feet of torque is not just for show. Instead, the 2019 RAM HD with a fifth wheel or gooseneck will claim over 35,000 pounds towing capacity. That beats the 35,000-pound maximum towing capacity rating of the 2019 Ford Super Duty. Towing figures of competing models such as GMC Sierra HD and Chevy Silverado HD are yet to be released. However, Lexington RAM dealer expect their towing capacity to be slightly above 30,000 pounds. The RAM HD has an unmatched record when it comes to the hauling capacity. It can tow up to 6,780 pounds in its bed, which is slightly higher than the 7,640 hauling capacity of the Ford Super Duty. But Ford Super Duty users should expect an improvement for the 2020 model. However, these figures apply to gasoline-powered heavy-duty trucks. Trucks powered by heavier diesel engines have a slightly lower rating. The EPA does not consider fuel efficiency when rating heavy-duty trucks.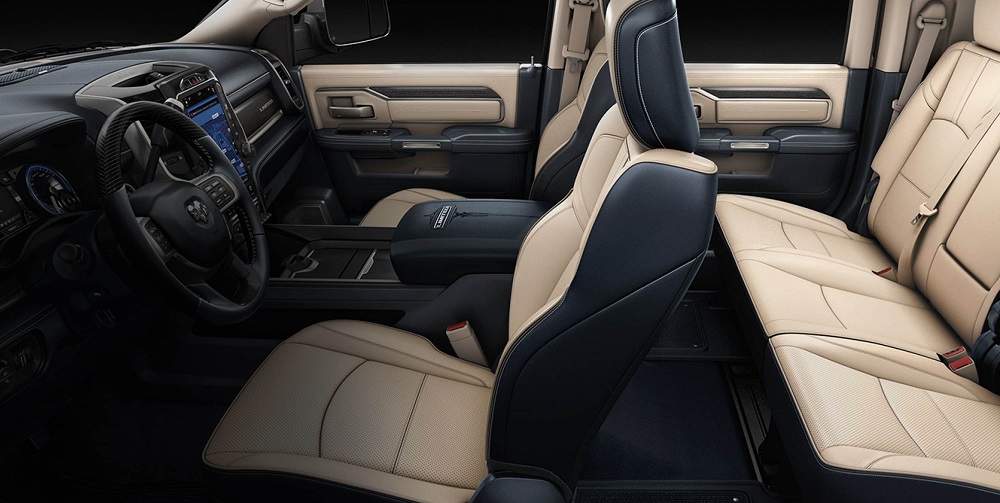 Mechanical – 2500 specs in Lexington
The 2019 RAM is HD's top model, with over 1,000 pound-feet of torque. Backed with a 6-speed automatic transmission, the 2019 RAM 2500 can produce up to 400 horsepower. The 2019 RAM's updated version comes with a 6.7-litre turbocharged diesel engine that can produce up to 850 pound-feet of torque and 370 power. Ford intends to upgrade its Super Duty lineup and will probably come with a more powerful engine. However, its V-8, stroke turbodiesel engine will continue to churn 935 pound-feet of torque and 450 horsepower, though. However, RAM expects to replace its 6-speed automatic transmission with a 10-speed unit. Both RAM and Ford offers a gasoline option for car enthusiasts who are not fans of oil-burners. The Ram's 6.6-litre turbocharged engine can deliver up to 429 pound-feet of torque and 410 horsepower. The Super Duty has a 6.2-litre V-8 engine that ranks 385th in the heavy-trucks category. Lexington RAM Dealer expect a power bump when RAM upgrades its engine.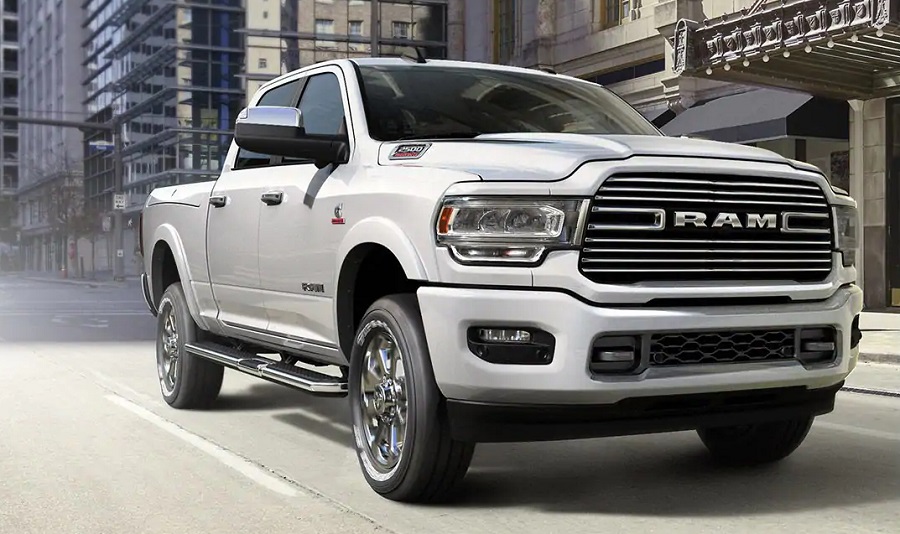 Powertrain – RAM 2500 specs in Lexington NC
The 2019 RAM regular-cab diesel trim serving Lexington Winston Salem High Point comes standard with a 28-gallon tank capacity. It can carry up to 31 gallons in its crew-cab trim, though. However, Mega Cab trims with a 4-inch, a 6-foot bed can store more fuel. Crew-cab and regular-cab trims come standard with an 8-foot box tank with a capacity of 32 gallons. Other trucks with similar features have a capacity of 36 gallons regardless of body configuration and engine, but that could change for the 2020 models.
Safety – 2019 RAM 2500 dealer
With different axle ratio, body, engine configurations, and bed, it is impossible to tell which model has the quickest acceleration in the heavy-duty trucks category. But, these comparisons of the Ford Super Duty and RAM 2500 can give you an idea of the fastest heavy-duty truck. The Ford Super Duty hit 60 mph in less than 7 seconds in a recent test while the RAM clocked over 84 mph in 16.6 seconds. But with the added engine that can deliver up to 900 pound-feet of torque and 385 horsepower, RAM users should expect the acceleration of the new RAM to improve.