New RAM 2019 RAM 2500 Heavy Duty in Lexington NC for Sale in Lexington, NC
2019 RAM 2500 Heavy Duty in Lexington NC
Vehicle Overview
The 2019 Ram 2500 is at the top of its class thanks to its wide array of attributes. This heavy duty truck is the quintessential pickup truck as it offers a ton of power, superior styling and advanced technologies. Serving Lexington Winston Salem Salisbury is the goal for 2019, and Ram 2500 comes in multiple trims such as the Laramie, Longhorn, Limited, Big Horn, Power Wagon and Tradesman editions. The 2019 Ram 2500 Heavy Duty in Lexington is the premier dealer of choice and for many good reasons. Let's take a closure look at this modern marvel of ingenuity.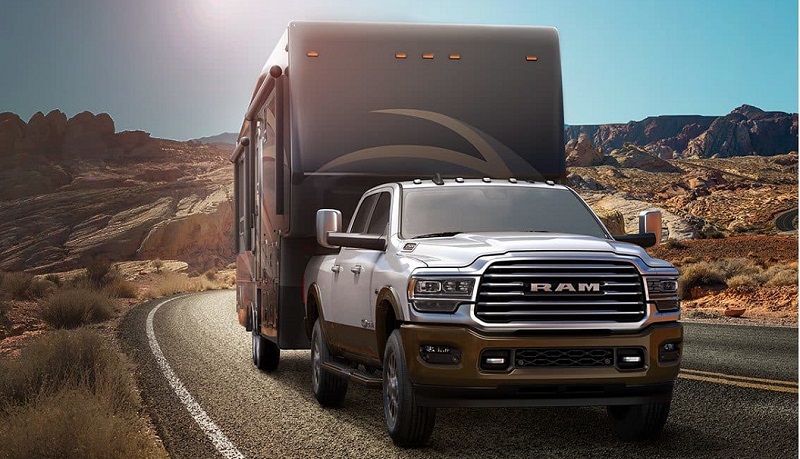 Exterior – 2019 RAM 2500 in Lexington
Big, bold and monstrous is what the exterior of this heavy duty truck looks like. Drivers will have an unmistakable presence on the roadways. Of course, the front grille is the showpiece here, and it comes in six different designs. There is an abundance of chrome accents and finishes with the 2019 Ram 2500. Every square-inch of this exterior has been finely crafted. Designers went for an "interlocking" theme as the grille, bumper and wheels seem to fit together perfectly. The actual Wheels will come in 17 and 20-inch sizes. Though this vehicle is big, it still retains somewhat of an aerodynamic shape. The LED projectors look stunning thanks to their horizontal architecture. These phenomenal lights are set perfectly below Dodge's raised hood. This raised, aluminum hood actually shaved away over 100 pounds of weight. The unmistakable Ram emblem is prominently displayed on the tailgate while the 2500 badge is constructed on the sides of the scalloped-shaped hood. This heavy duty truck is definitely a sight for sore eyes. The 2019 Ram 2500 Heavy Duty in Lexington is serving Lexington Winston Salem Salisbury with an array of exterior paints, including patriot blue, billet silver and black crystal. Other exterior features included are wheel flares, large corner steps, a RamBox with lights and bodyside molding.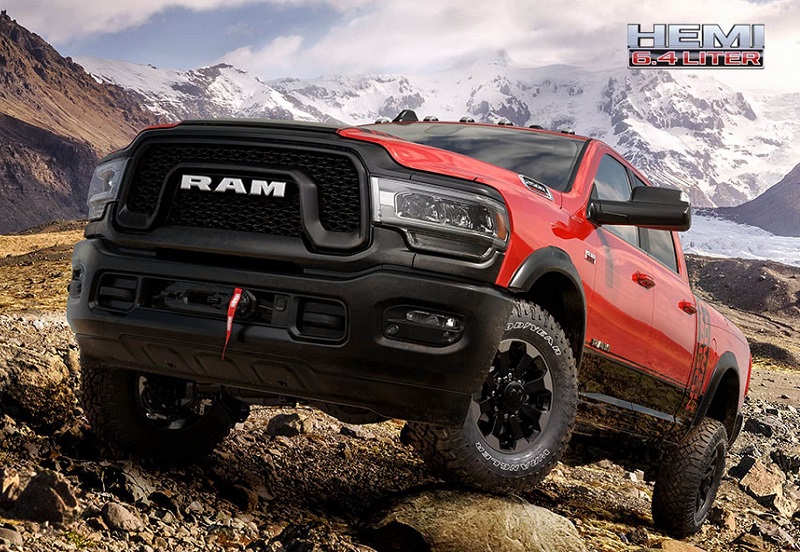 Interior – 2019 RAM 2500
The 2019 Ram 2500's interior is brilliantly designed with a wide range of features. This wonderful cabin offers plenty of legroom thanks to its 43.3 inches of leg space. The seats in this vehicle are composed of 100 percent leather. This leather provides supreme comfort, especially when you're taking those long trips. On the other hand, this fine leather is heaven sent for those who are using the 2019 Ram 2500 for work purposes. The cabin offers Touch & Go technologies. One of its best features is the 12-inch touchscreen, and this touchscreen is the largest of its kind for any heavy-duty truck. Many of the truck's applications can be found here, and it's very user-friendly. Music lovers will also be impressed with the listening experience as this Ram provides a Hardon & Kardon audio system.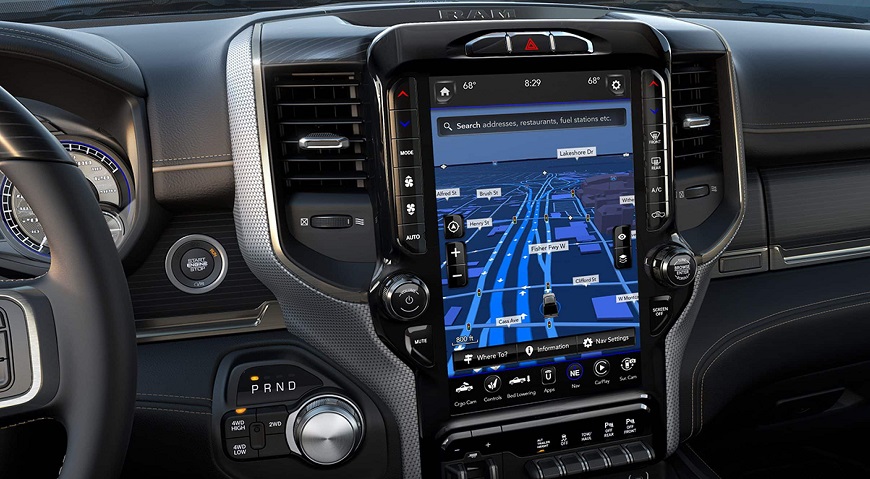 Mechanical – RAM 2500 specs in Lexington
This Ram pickup comes equipped with great mechanics, including hydromounts on the C pillars, pinion seals, upgraded driveline angles and a lowered front air dam. Everything fits together brilliantly, which is why this truck is put together so well. When it comes to rigidity, the 2500 Ram is incorporated with high-strength steel. This frame can certainly take a beating whether you're driving on the highway, or you're driving off-road. In addition to that, acoustic glass can be found here. What more could any truck lover ever want? Thanks to the vehicle's lowered stance, its power sensors are now hidden from the naked eye. The designers have implemented even more strength by incorporating a two-piece, front-suspension crossmember. Hopefully you're quite tech-savvy to understand this lingo. The 2019 Ram 2500 Heavy Duty in Lexington also hosts a class-five hitch that's rated at 20,000 pounds, three-link suspension, 9.25-inch AAM axles and a beefed-up AAM axle to the rear.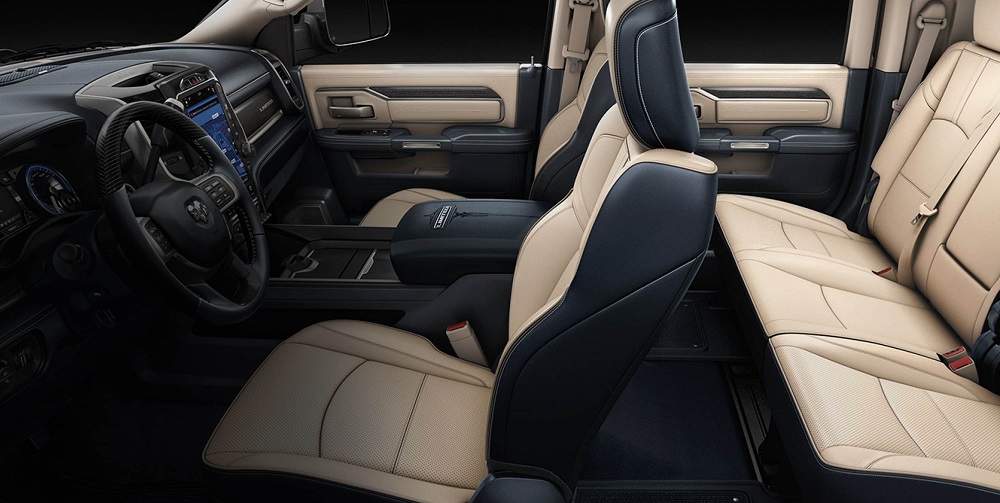 Powertrain – RAM 2500 specs in Lexington
Depending on the preferred model, consumers will receive a boat-load of performance capabilities. Dodge has incorporated this vehicle will multiple engine types, including a 6.7-liter Cummins engine that produces up to 1,000 pound-feet of torque. This just so happens to be a high-output turbodiesel engine. There's a standard version of this 6.7-liter engine that generates 370 horsepower and 850 pound-feet of torque. In addition to that, there's an entry-level, 6.4-liter HEMI that produces 410 horsepower. This gas-powered V8 will also generate as much as 429 pound-feet of torque. The power of these powertrains comes from lighter pistons, forged connection rods/bearings, hallowed camshafts and graphite iron blocks.
Safety – 2019 RAM 2500 dealer
The new Ram 2500 is not only constructed from high-strength steel, it's fully loaded with a plethora of preventive-safety components. This includes forward collision warning as well as adaptive braking. The truck's adaptive-forward lighting penetrates the darkest of weather conditions with relative ease. For providing an overall view of your surroundings, this vehicle comes equipped with a 360 degree camera. There are also driver-assisted technologies including adaptive cruise control and TPMS tire monitoring.
M&L Chrysler Jeep Dodge RAM is serving Lexington Winston Salem Salisbury with the finest of heavy-duty pickups. If you're truly interested in this magnificent vehicle, then give us a call or simply stop by. You won't be disappointed.