All About the 2020 Ram 1500 vs. 2021 Ram 1500
2020 Ram 1500 vs. 2021 Ram 1500: Which Should You Choose?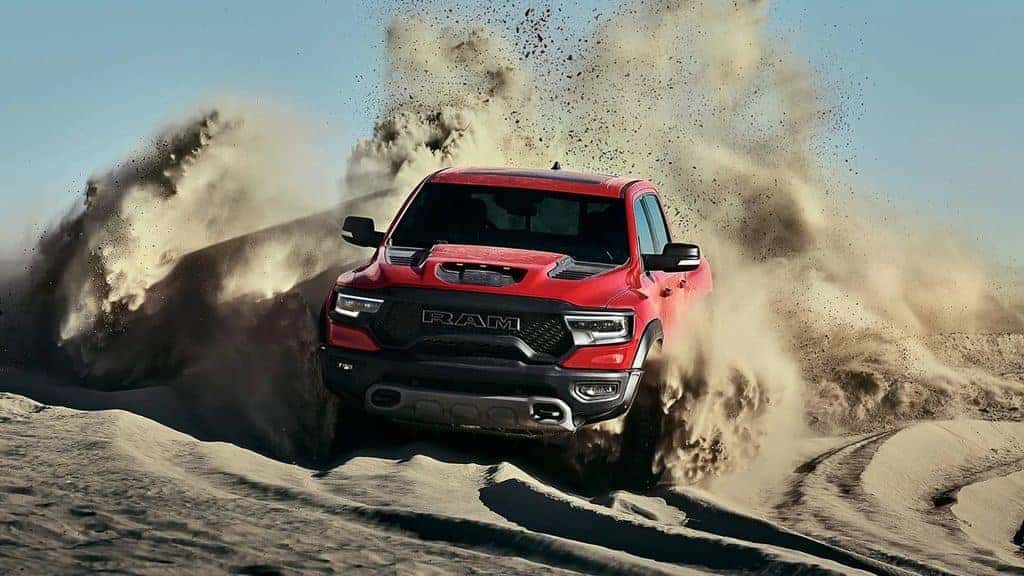 Another model year means an updated Ram 1500 has hit the market! If you're looking for a heavy-duty pickup truck with the power to tackle even heavier loads, there's no denying the Ram 1500 is the car for you.
But, how does the 2021 Ram 1500 compare to the previous year's model? Don't worry — we're here to help! Keep reading to learn more about the Ram 1500, including the interior and exterior features of this powerful truck, as well as how the two models compare. 
An Inside Look at the Ram 1500
Before you decide between the 2020 and 2021 Ram 1500, let's take a closer look at the interior and exterior features that make this pickup truck stand out from the rest. 
Interior Features
The Ram 1500 is the intersection where ruggedness meets luxury. Designed to be one of the most technologically advanced pickups, this truck integrates state-of-the-art tech and device connectivity, along with a premium audio system that includes 19 speakers. Other interior features were designed with comfort and convenience in mind, such as a rear seat fold-down center console and reclining rear seats. And with an interior storage volume of 151.1 liters, there's sure to be room for all your tools, sports equipment, and much more.
Exterior Features
With exterior features that are just as bold and luxurious as its interior, the Ram 1500 is sure to turn heads wherever you go. The available multifunction tailgate has been engineered with two doors that swing open, allowing for easier access to your truck bed. The Ram 1500 also offers plenty of space for all your precious cargo — and with a towing capacity of up to 12,750 pounds, the opportunities are endless. If you're looking to make a statement in a truck that's big, bold, and rugged in all the right places, then it's time to call the Ram 1500 yours. 
The 2020 Ram 1500 vs. 2021 Ram 1500
Overall, either the 2020 or 2021 Ram 1500 is perfect if you're looking for impressive towing capacity, payload, and efficiency that only a heavy-duty pickup truck can offer. However, the latest model does have some notable differences, such as the all-new Ram 1500 TRX and the Limited Longhorn 10th Anniversary Edition. Keep reading to learn more! 
All-New Ram 1500 TRX
The all-new 2021 Ram 1500 TRX is arguably the most exciting addition to this year's model. With its 702 horsepower, 650 pound-feet of torque, and supercharged 6.2-liter V8 engine, the TRX is the most powerful Ram to ever hit the market. Featuring launch control, Bilstein shocks, and a flat-bottom steering wheel, this is the perfect truck for all of your on- and off-road excursions. And with an extra eight inches of overall width and massive 35-inch tires, the TRX looks just as powerful on the outside as it is on the inside. 
Limited Longhorn 10th Anniversary Edition
Celebrate a decade of the Longhorn legacy with all the Ram 1500 features you know and love — plus exclusive additions! Available on Ram 1500 Limited Longhorn models, this special edition pickup includes a multifunction tailgate with signature 60/40 split doors, as well as 20-inch, OWL All-Terrain tires. This model also boasts distinctive 10th Anniversary badges on the center console and an animated graphic on the 7-inch Driver Information Digital Cluster Display — so you can have bragging rights for years to come! 
Head-Up Display and Digital Rearview Mirror
One notable feature in the 2021 Ram 1500 is the all-new Head-Up Display, which presents important information — like MPH, incoming calls, turn-by-turn navigation, and which gear the vehicle is in — on the windshield. This allows the driver to keep their eyes on the road, while still being aware of various stats. Another exciting update in the latest Ram 1500 is the digital rearview mirror, which provides a real-time video stream from a rear-facing camera. 
Test Drive the Ram 1500
We could give you plenty of reasons why this is the most luxurious truck in its class, but don't just take our word for it. Come experience the stylish, durable, and functional Ram 1500 for yourself. Stop by our dealership today to take one for a spin, and you just might drive home in a brand-new car!