Introducing the 2023 Dodge Challenger Black Ghost
Last Call: Get the 2023 Dodge Challenger Black Ghost Before It's Gone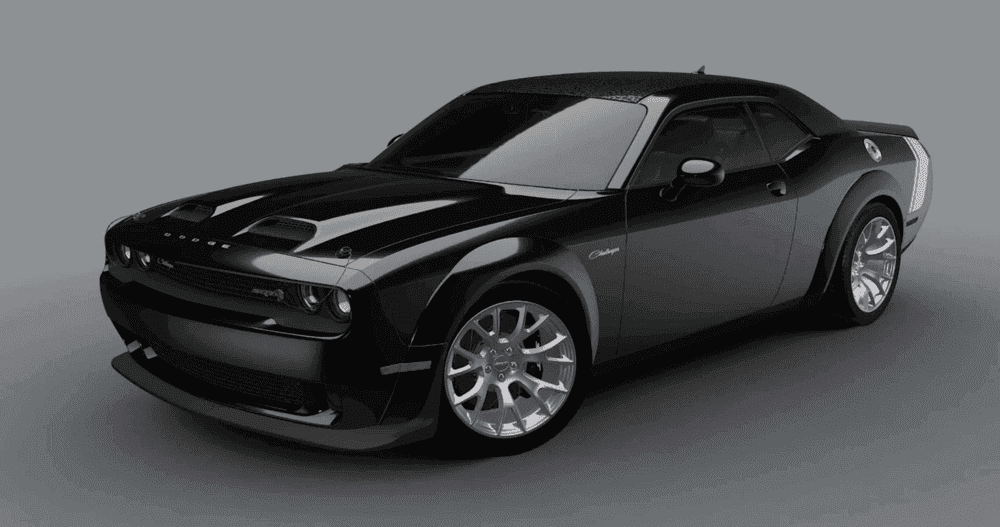 Muscle cars have taken a turn for the supernatural! Let us introduce you to the 2023 Dodge Challenger Black Ghost, primed to make its debut this year as part of Dodge's "Last Call" commemorative models.
With an all-black exterior and neon green details that glow in even the darkest of nights, every part of this incredible vehicle was designed with sleek styling and powerful performance in mind. From its iconic HEMI engine to its advanced aerodynamics, you'll have a vehicle that speaks volumes without ever having to say a word.
Ready to feel like you're driving through another world? It's time for your first look at the remarkable 2023 Dodge Challenger Black Ghost.
What to Know About the 2023 Dodge Challenger Black Ghost
2023 marks the return of a classic: the Dodge Challenger Black Ghost. This special edition decked-out muscle car was first seen in 1970 racing up and down Detroit's streets as part of some of the city's most iconic drag races. Since then, it has been updated with added features and a slick new design to attract modern-day auto fanatics.
While the original version of the car was impressive, the 2023 iteration of this iconic ride comes with modern flair and power — featuring a 6.2L supercharged HEMI V8 motor that churns out 807 horsepower and 707 lb-ft of torque. Beyond that, steering wheel mounted paddle shifters improve control over the eight-speed automatic transmission and will allow you to take control of every shift without compromising power.
Here are a few of the most anticipated features and Dodge Challenger specs to look forward to:
Widebody Hellcat Redeye
The 2023 Dodge Challenger Black Ghost is the epitome of high performance. It is based on the Hellcat Redeye Widebody, meaning that it offers mind-blowing acceleration with its supercharged 6.2L HEMI V8 engine.
What also makes this muscle car extra special is that it also has 3.5-inch wider tracks to help you tackle tight corners with speed and ease. This gives it higher levels of stability, precise handling, and less body roll when you take corners and windy roads. All in all, having wider tracks on your car frame helps you drive better (not just faster) while reducing wear and tear on your vehicle.
Currently, it's the only factory-supercharged production muscle car with widebody fender flares, which will ensure you have an unforgettable driving experience.
807 Horsepower
The Last Call edition of the Dodge Challenger Black Ghost is a dream come true for car enthusiasts who crave speed and power. Designed with 807 horsepower, it has some serious muscle packed under the hood. It also comes equipped with an eight speed automatic transmission, which makes it an ideal choice for drag racing.
When tested against the last Challenger SRT Redeye Widebody, the new Challenger was able to go from zero to 60 in just 3.6 seconds. Not only that, but it drove a quarter of a mile in just 11.8 seconds.
Gator-Skin Vinyl Roof Pattern
The 2023 Dodge Challenger Black Ghost is an homage to the original car and features a similar gator-skin vinyl roof pattern. To complete the look, Pitch Black paint adorns this edition of the popular muscle car.
The back shows off a white stripe on its rear fender and chrome script "Challenger" badges on the grille, front fender, and rear spoiler. It also comes standard with 20-inch Satin Carbon wheels and black six-piston Brembo brakes for superior stopping power.
Only 300 Models
If all of these specs have you thinking that buying a Dodge Challenger is the right one for you, act sooner rather than later. Dodge is only releasing 300 limited-edition models of the 2023 Dodge Challenger Black Ghost.
This exclusive release means that snagging a 2023 Dodge Challenger Black Ghost will be quite a tricky feat indeed. Whether you decide to keep it as a collector's item or take it out on the road, it's sure to be one investment that won't soon be forgotten.
2023 Dodge Challenger Black Ghost Price
As you can see, the Black Ghost is already turning heads. This high-end muscle car is a combination of power and style, with impressive performance specs and modern design features.
So, it's no surprise than that the 2023 Dodge Challenger Black Ghost carries a hefty price tag, with estimates putting it up to $99,315 in certain markets. While this cost may sound steep, there's no doubt it's worth it for devoted car enthusiasts looking for a legendary ride.
We Make Buying a Dodge Easy
With impressive specs and unbeatable power, it's hard to resist the temptation and exclusivity of this classic car. We certainly understand the allure of being one of just 300 people to own a car like this, whether you drive it daily or keep it in your garage and admire it whenever you want.
Put simply, this reimagined classic car is perfect for the modern motorist who loves the nostalgia of past decades. Are you ready to make a statement with the 2023 Dodge Challenger Black Ghost? Reach out to our team at Lexington M&L to order yours today.